© Irure ut pariatur ad ea in ut in et. In incididunt sed tempor
Enjoy Dr Debi's book
& articles
Read free articles and check out
the book. Lots of illustrations and
practical positive tips. 28 chapters
you can read in any order. A must
have for your tool chest or kitchen
counter.
Dr Debi's award wining book and
articles are fun to read and so
helpful!

Enjoy fun encouragement for the
Home Team.
Every Home Team at any stage of
life finds helpful perspectives and
strategies to handle current and
future projects or to recover from
any lingering issues from past
ones.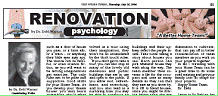 Everything on the Human Side
of the Hammer
Building, Renovating, Remodeling, and Decorating
are ways that we make a home for ourselves.
There are challenges in planning, putting it
together, and working together that can bring
chaos or …
Dr Debi shares advice on TV
Your renovation does not have to
be a train wreck for your family.
Dr Debi can help! With knowledge
of home building and 3 decades of
family practice in psychology, Dr
Debi has tools to help you!
Listen to radio clips and catch
some video too.

We know that home renovation
can often be stressful and
challenge everyone's patience. Yet
we have found that if we approach
it from a fresh point of view, we
can actually learn from these
experiences and improve our
teamwork and harmony in the
home. Projects will go more
smoothly and save money, with
less strife, and positive results!

Dr Debi's sandcastle research:
How we develop our 'inner
renovator' as children
How we develop our renovation
interests early on. New York Times
feature on Dr Debis' Sandcastle
research. And, take the quiz and
see where you land !
It is fun to look beyond our
hammers and see what it all
means.


Other research of interest to home
living ~ Check out what you can do
about Seasonal Affective issues in
your home and habits.
Visit www.cet.org for research info,
a self-administered diagnostic
tool, and links for recommended
products.